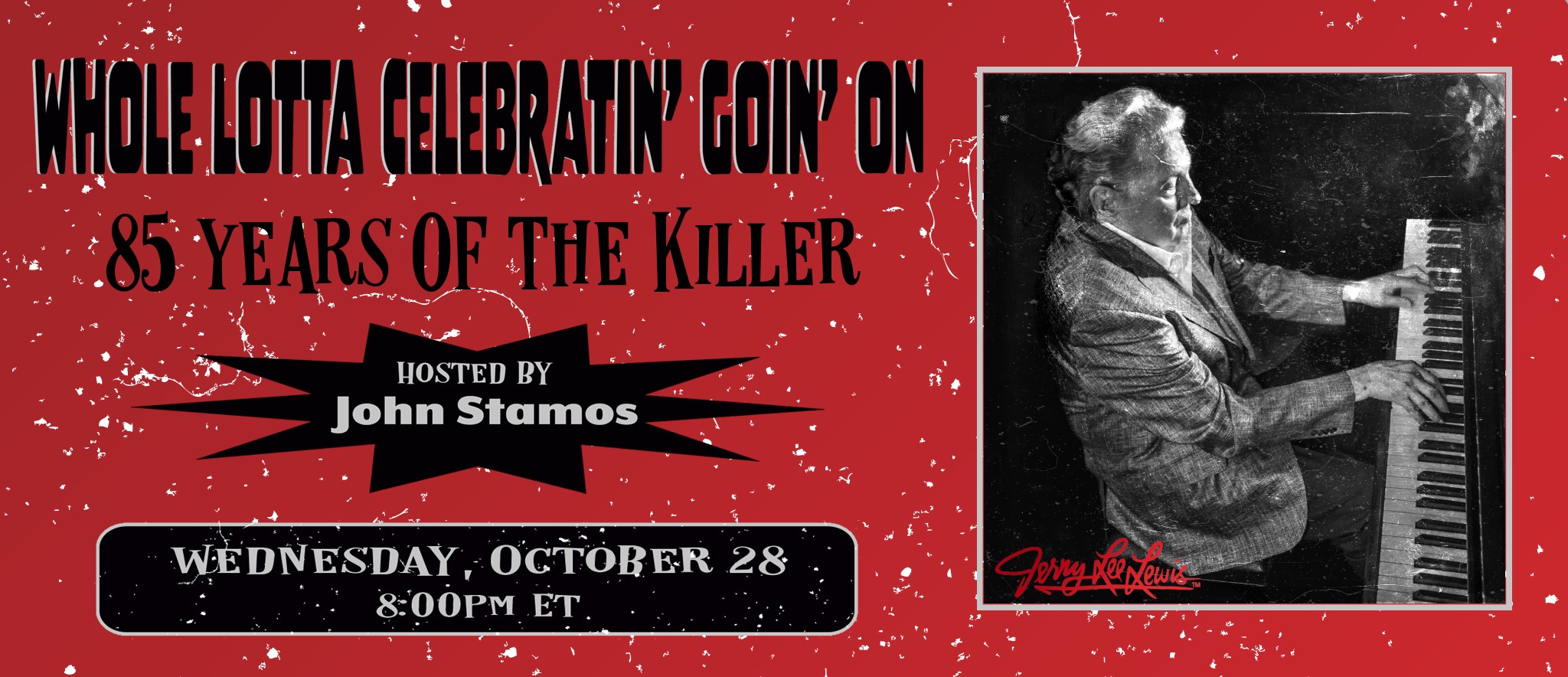 Join Jerry Lee Lewis for the YouTube and Facebook Premiere of "Whole Lotta Celebratin' Goin' On: 85 Years Of The Killer" hosted By John Stamos to air October 27 benefiting World Vision!
RSVP Online to sign-up for email updates and get the link to the show sent directly to your Inbox!
Rock and Roll Hall of Fame icon and the "Last Man Standing," Jerry Lee Lewis, will celebrate his 85th birthday with his millions of fans around the world. The virtual livestream event, hosted by actor John Stamos, will feature performances and well wishes from friends and fans of Lewis. The evening will feature a special moment, the first time in forty years that Jerry Lee has been in the same room with his famous cousins, country legend Mickey Gilley and iconic televangelist Jimmy Swaggart.
Whole Lotta Celebratin' Goin' On: 85 Years of The Killer will air on Tuesday, October 27 at 8pm ET / 7pm CT via Jerry Lee Lewis' official Facebook and YouTube channels and JerryLeeLewis.com. The event will benefit World Vision, a Christian organization working to help communities lift themselves out of poverty. For good. www.worldvision.org/jerrylee
The current list of celebrities lined up to celebrate "The Killer" includes: Andy Grammer, President Bill Clinton, Billy F Gibbons, Bonnie Raitt, Brenda Lee, Chris Isaak, Chris Janson, Drew Carey, Elton John, Freda Payne, Gavin DeGraw, Jacob Tolliver, James Burton, Jerry Kennedy, Jerry Phillips, Jimmy Swaggart, Joe Walsh, John Fogerty, Keith Richards, Kris Kristofferson, Lee Ann Womack, Linda Gail Lewis, Lindsay Ell, Marty Stuart, Mickey Gilley, The Beach Boy's Mike Love, Nancy Wilson, Peyton Manning, Priscilla Presley, Randy Houser, Ringo Starr, Tanya Tucker, Tom Jones, Willie Nelson and Wink Martindale along with appearances from Jerry Lee Lewis' road band, Kenny Lovelace, Ray Gann and Kenny Aronoff.
RSVP Online to join Jerry Lee Lewis' email list and get the link to the show sent directly to your Inbox! When October 27th, 2020 7:00 PM through 9:00 PM Contact Phone: 901-488-1823 Email: [email protected] Download iCalendar entry for this event. iCalendar feed for this event.
Help spread the word