Noted country crooner Vince Gill sings on Ray Price's last album, a 5 star effort
    Before Ray Price passed last year he told famed record producer Fred Foster that he had another album in him and wanted Foster to produce it. Though Price was in very poor health with pancreatic cancer and only months to live, he wanted to  put out not a sentimental album but one more GREAT album, according to Foster. That album was 'Beauty Is,' which came out this past April, for those like us who missed it at the time. 
Ray Price was one of the early pioneers of country music along with Hank Williams, Lefty Frizzel and a few others. Even though he was such he was initially criticized for introducing strings into country music. Since then, that criticism has all but gone away as strings have become a part of his sound – and Price's one request was to have strings as integral on this last album, a tribute to his wife.
Fred Foster , a longtime friend of Price's actually is most known for producing Roy Orbison's greatest hits, including 'Only The Lonely,' 'Crying,','In Dreams,' 'Oh Pretty Woman,'to name but a few.  Foster is a story in his own right, meeting and recording diverse artists like Price, Orbison, Willie Nelson, Kris Kristofferson, Tony Joe White and many others on his fledgling Monoument Label, which featured the new, 'country-politan' sound of Nashville drawing from a stable of top musicians such as Boots Randolph on sax, Grady Martin on guitar, Floyd Cramer on piano to name a few. These musicians were adept at going from country to early rock and roll to pop. Foster's own story should come out one day, perhaps in a movie, but , for now, here's' an interview in which Foster talks about the reunion with Ray Price (much like he had with Roy Orbison in 1977 for a comeback album.
Ray Price Final Album (5 stars)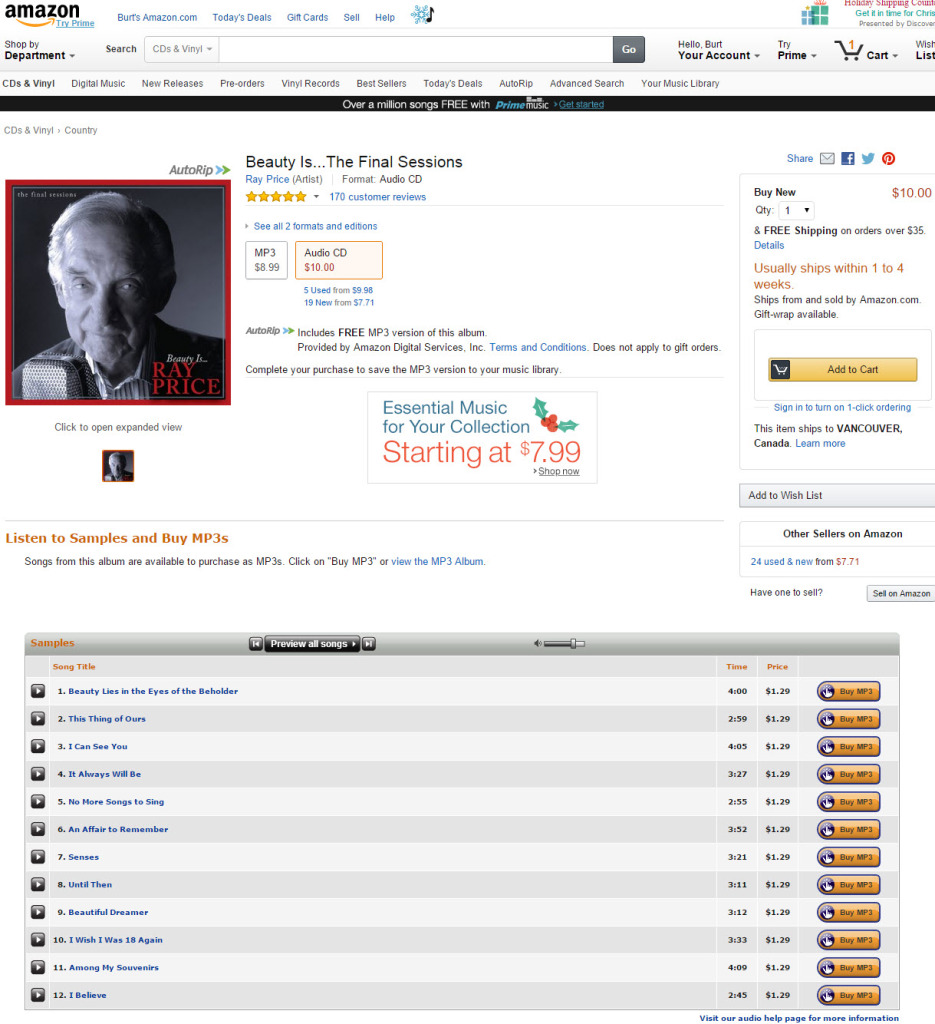 Ray Price's Final Recordings: 'Everyone Had the
Feeling Something Special Was Happening'
By Chuck Dauphin, Nashville
Fred Foster remembers the first time he met Ray Price. "It was New Years' Eve 1953 in Washington, DC," he recalled to Billboard. "Every New Years' Eve, [promoter Connie B. Gay] would take over Capitol Arena, and put on a huge show. There was Ernest Tubb, Red Foley, Lefty Frizzell, and Ray. I had just gotten into the business, and didn't know anything. I go to the show, and Ray was onstage. He walks off the stage after he finishes, and walks straight up to me and sticks his hand out. He says 'How you doing, Hoss. I'm Ray Price.' I introduced myself, which meant nothing," he said, allowing that he took the opportunity to offer the rising star some advice.
"I guess it was the adult beverage that I had in me to say 'You know, you've got to stop trying to sound like Hank Williams. You've got to sing like Ray Price.' He looked at me and said 'You're probably right,' and walked off."
Price heeded his words of wisdom. "I didn't see him for about two years. He came down for a DJ convention… he walks up, pokes me, and says 'I took your advice.' We were fantastic friends the whole time."
The friendship between the two men continued until Price's death this past December from pancreatic cancer. On Tuesday, AmeriMonte Records will release "Beauty Is…," the final recording from the Country Music Hall of Famer – produced by the legendary producer.
"He called me in November 2012, when he had been diagnosed with the cancer. He said 'I've got one album left in me. I want you to do it. Will you?' I said 'Yes.' So, I went to work looking for songs."
The two found a mix of material ranging from standards such as "I Wish I Was Eighteen Again" and "I Believe" to some newer material from a few of Nashville's top rising songwriters.
"Chicks With Hits is a group of women that are song pluggers or publishers," Foster told The 615. "We met at Melanie Howard's office. They brought in so many great songs. I sent 20 or so to Ray, and he picked about six. He said he could probably do about six more of them, but wanted to hold off – so he just took the six. He wanted to do 'Beautiful Dreamer,' and Janie wanted him to do 'An Affair To Remember."
Vince Gill adds harmonies to a couple of cuts on the album,and Martina McBride duets with Price on "An Affair To Remember." Foster shared how the pairing took place. "Bergen White did the string arrangements, and he was doing Martina's Christmas tour. They got to talking, and he told her he had been working on a Ray Price record. He told her he had been working on 'An Affair To Remember' and that he thought she would be great on it. She said she would be happy to do it. I called Ray, and told him Martina would be willing to do it, and he said 'Great. Tell her to sing."
Foster said that the only request that the singer had was that he wanted strings, a hallmark of his sound, starting with his 1967 recording of "Danny Boy," which ruffled some feathers. "He was criticized for that, and I never could understand that. Ray Price was being Ray Price when he sang 'Danny Boy, and he was being Ray Price when he sang 'Crazy Arms.' Whatever he was doing, he made you believe it. We talked often about how people put things in different little boxes. I told him the minute you label something, you limit it. There's only two kinds of music – good or bad. He was very astute about him. It bothered him, I'm sure."
Though Price was in failing health, the two didn't approach the album as a sentimental last farewell. "We just went in and made the best record we could make. He loved to make music. Everyone had the feeling that something special was happening, so they were so much more attentive than usual. They felt it. He got recharged early on, and he said 'If we get this one out of the way, we might could do another one.' But, it wasn't to be."
When asked about Price's legacy, Foster summed it up by saying "A song found a great home in Ray Price, if he chose to do it. I told him one time that it sounded like he was making love to a song, like he was trying to caress it. He said 'That's what I'm trying to do."