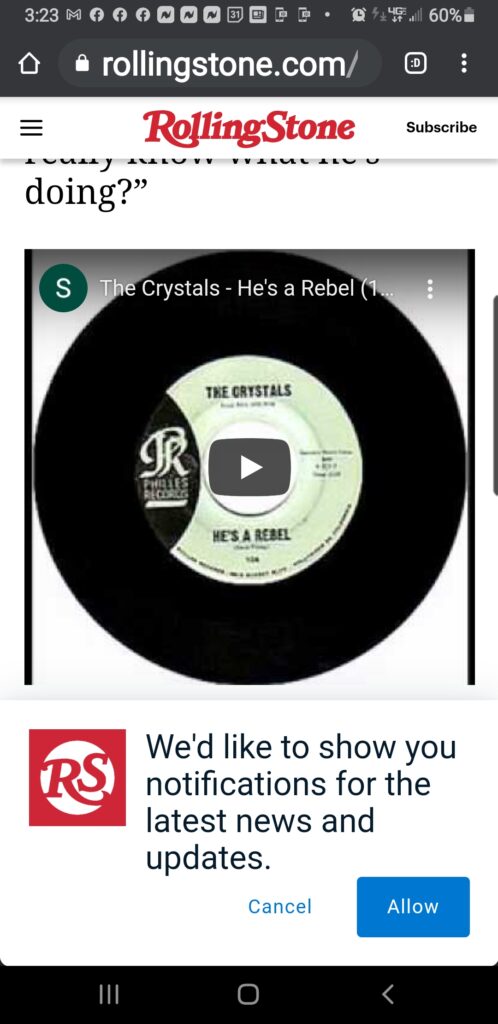 The "He's a Rebel" singer shares her complex emotions in the aftermath of producer's death
He was only a few years away from his prison release date with fans hoping for at least one more production effort by the
'Wall of Sound'. Spector passed Jan 16 at 81 in Stockton CA. More to follow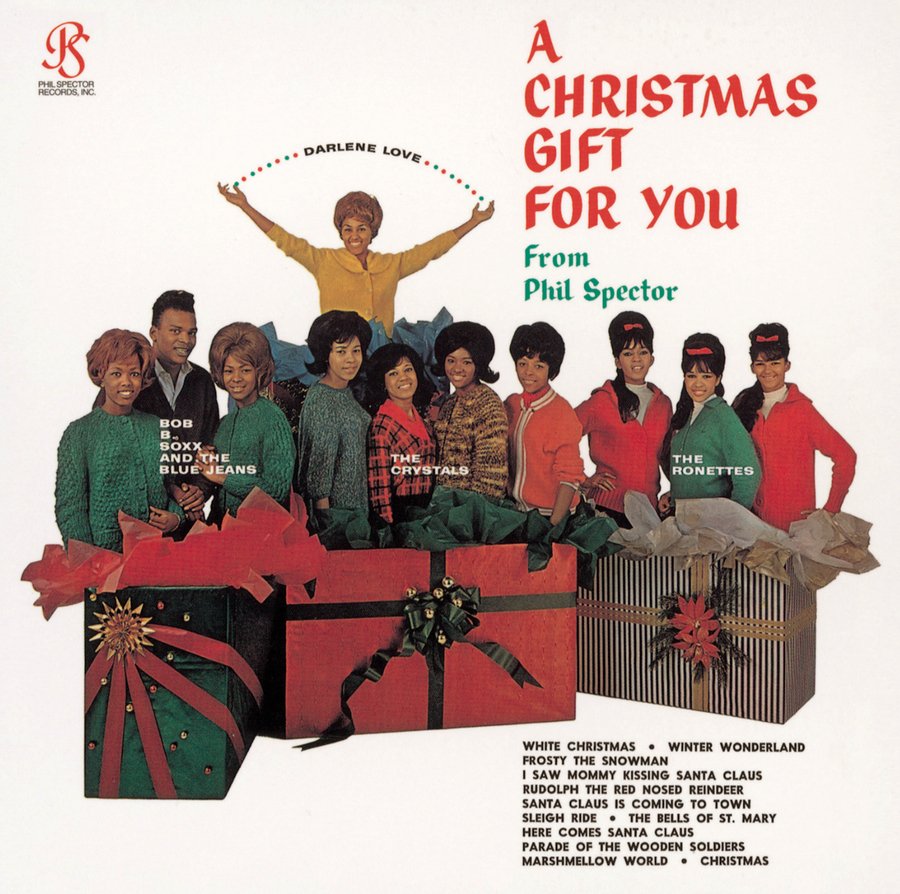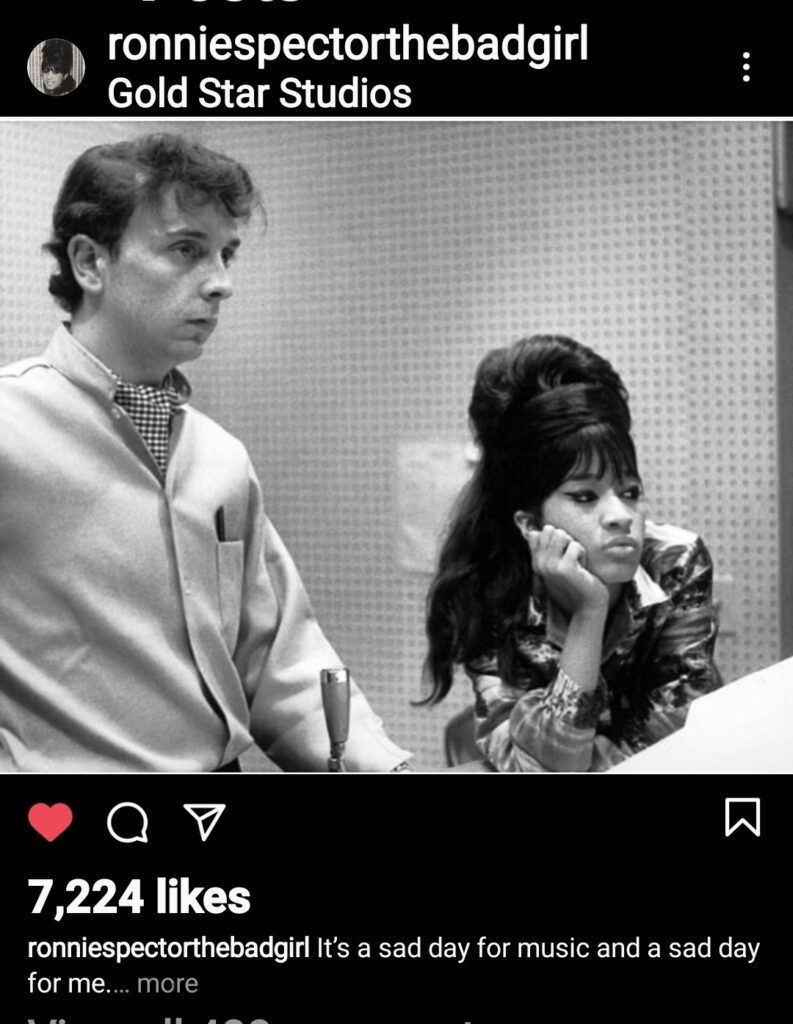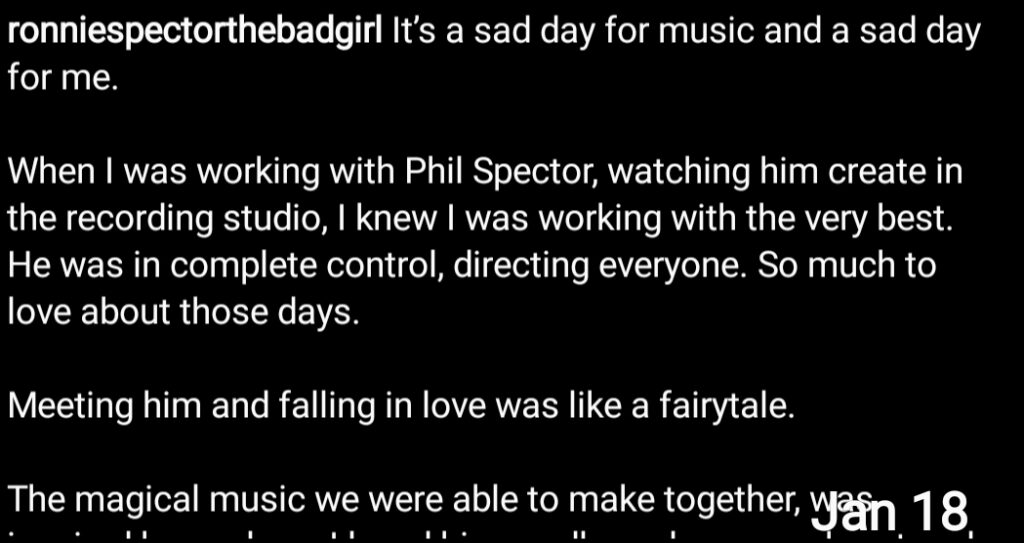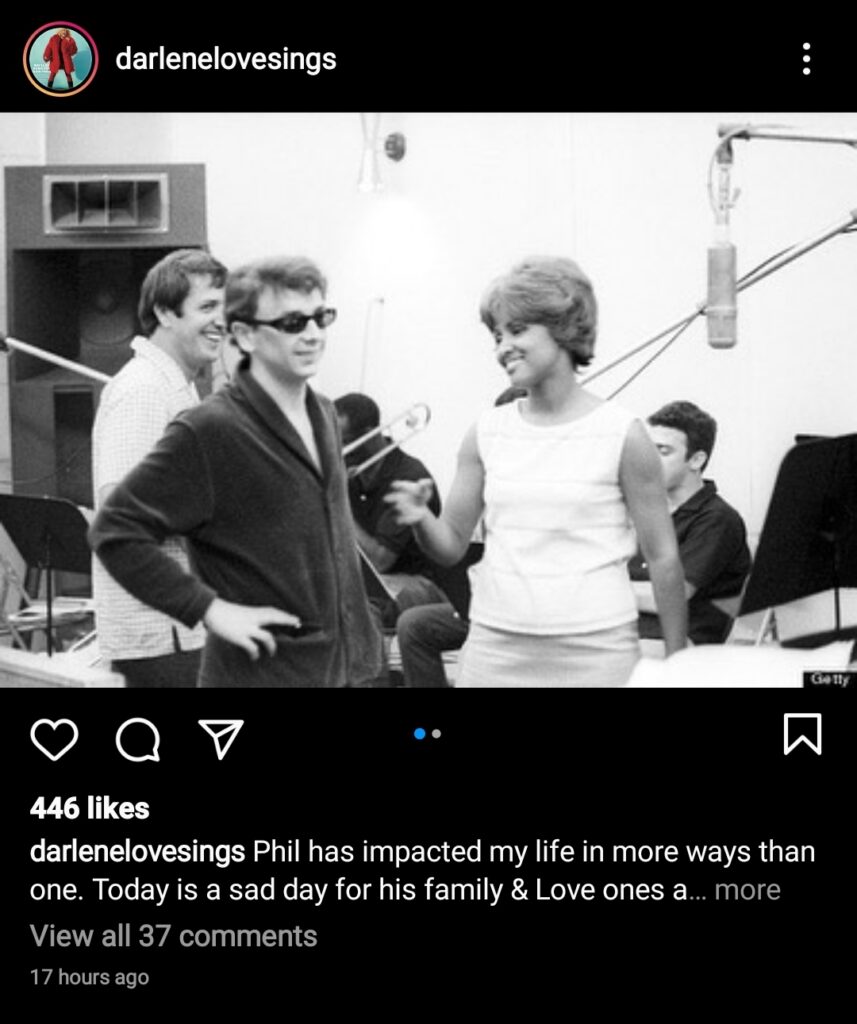 GENE PITNEY – EVERY LITTLE BREATH I TAKE click here TINA TURNER – River Deep Mountain High
FILM DOMUMENTARY: The Agony and Ecstacy of Phil Spector
Phil Spector was a pioneer of American music, a legendary producer to John Lennon and Tina Turner, and, as of April 13th 2009, a convicted murderer. Yet the Spector who appears in Vikram Jayanti's documentary is not the severe, outlandishly coiffed defendant seen in sensationalistic accounts of his trial, but a charming, savvy music executive with a generous, but arguably accurate, estimation of his place in the history of popular music. (from Rafael Theater review, San Rafael CA)
PHIL SPECTOR – EDITOR'S NOTES:
After just losing 2 hours of writing my review of this film I saw last night, let me just say , that whatever you think of Phil Spector I would recommend seeing this film. For old rock and rollers or anyone iinterested in a good psychological drama, producer gives us a little bit of everything by juxtaposing Spector's' music with the court case and with , the highlight, excerpts from a rare interview he got with Spector just prior to the court case and eventual conviction.
Spector was now in jail for over 10 years so critics can feel more comfortable watching this film knowing he was paying his dues for an apparent accidental murder of girlfriend Lana Clarkson. Those with a psychological bent maybe able to get into the head of Spector , at least somewhat, to see if a miserable childhood with suicidal father may have contributed to Spector's bizarre personality. At the same time, one must be able to separate this terrible crime from a brilliant music career that has been largely forgotten .
Whether it is because rock and roll never gained full respect until the Beatles came along in 1964 or because Spector's behavior was so abhorent
to many, some great music may never have seen major exposure again without the criminal case. I know its sad that it often takes a crime to bring a talent back in the limelight. But take it for what it is. Ajanty has laid out 20 or so of of Spectors finest productions, featuring classics like Be My Baby by the Ronnettes and You've Lost That Lovin Feeling by The Righteous Brothers as a backdrop, or perhaps foredrop, to the ongoing trial excerpts and amazing S pector interview from 2007.
In the interview excerpts, chich account for about half the movie, Spector comes across as both sympathetic and perhaps sociopathic, as he has been labelled by many. His grandeous ego and seeming lack of wrongdoing goes along with the latter, yet one must consider Spectors actual statements – much more lucid than might expect – re the trial and the treatment he has received both recently and in his past. Spector talks about his father, who committed suicide (though Spector embellishes the story, saying that his Dad ' shot himself when Phil was five or six' when , in fact, it was by gas asphyixiation when Spector was 10 or 11, according to the producer, who was in the audience opening night, in San Rafael, where he later tood questions.
Phil Spector's landmark effort, River Deep Mountain High, by Tina Turner in 1966, is regarded by many pure music critics as his finest single effort; yet, by then Spector's time may have run out. The recording failed inthe United States, though it was No. 1 in England. Spector blamed it on white DJs not wanting to play it because it was too black and black DJs not wanting to play it for whatever reason, I didn't quite get… Few would have little to do with him and the Ramones actually fired him midway thru recording, to this writer's memory.
Spector was given a second life, as it were when Beatles and then John Lennon and George Harrison hired him . Many top sellers came out of these sessions, including a the 'Let It Be' sessions, 'My Sweet Lord' for George Harrison, 'Imagine' for Lennon, a full album of classic rock and roll from Lennon and some rewrites including 'The Long and Winding Road,'of which Spector had criticized the original as full of mistakes with John 'playing wrong notes on bass, ' etc. It may be a wonder the Beatles kept Spector around as long as they did, thru 1972 and Lennon's song ' Woman is the World's Nigger.' Buy then maybe they realized Spector knew what he was talking about. Spector always known for speaking his mind and speaking out; elsewhere in the film he criticized his wealthy and talented high school mates and teachers at Fairfax High in Los Angeles for NOT speaking out, saying he was the only one who did, and became ostricized for it. He was always a loner, he said, though music did give him a modicum of popularity.
The Agony and Exstacy of Phil Spector has a little bit of something for everyone. Music fan or not, you should find it compelling and one of the few films that combines psychological drama , great music and a rare, up close, candid interview, the likes of which you will probably never see again.
As a music person, I would like to see a second movie about Spector featuring the making of the 'Wall of Sound,' interviews with members of the 'Wrecking Crew' which backed many Spector productions, more of the lesser known gems produced by Spector, such as those by Ray Peterson and Gene Pitney (including the incomparable 'Every Little Breath I Take' which can be heard on this site) and the infamous 'Christmas Album' in 1962.'During the trial on Court TV we were treated to interviews with many of Spector's cohorts such as Darlene Love(who sang on many of the songs, regardless of group name, Carroll Connors, who sang lead on 'To Know Him Is To Love Him,' Spector's first recording, on which he sang, with the Teddy Bears .
Phil Spector is crazy, brilliant, charming all in one and he was convicted of killing a woman for which he paid his price.
The Ronettes: Ultimate Collection; Greatest Hits
John Lennon: Imagine [VHS]
Tearing Down the Wall of Sound: The Rise and Fall of Phil Spector (Vintage)
SHINDIG! Presents the Righteous Brothers [VHS]
The Righteous Brothers – In Concert
Phil Spector's Christmas Album The Beatles 1972 APPLE Release
Phil Spector: Back to Mono
A notification has been sent by LS-WTGLE27.
Confirm NASNavigator2 main window.
Phil Spector Returns
Stay tuned