Classic 1963 performance by Dick Dale on Ed Sullivan show featuring Dick singing before breaking into 'Miserlou'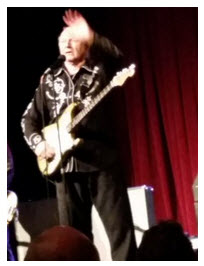 IF YOU LIKE THIS PAGE THERE'S A LOT MORE – SUBSCRIBE FOR FREE TODAY! >>>
DICK DALE , THE LEGEND, RETURNS TO STAGE AFTER SERIOUS CANCER BOUT
Dick Dale, the King (and originator) of the Surf Guitar, PLAYS on following a very serious series of cancer operations and treatment. Against  doctors orders, Dale is performing again on a limited basis. We were fortunate to see him in his usual rare form Jan 22, 2015 at the City Winery , Napa, CA. Dale is more than a virtuoso guitarist . He is the consumate entertainer as well as philosopher and he expounded on the medical industrial complex he has been dealing with as well as 'Love' and other topics between performing his greatest hits and lesser  known songs. A most entertaining fellow and good guy we are happy to share with you here.Catch Dale and/or his music.SEE DICKDALE.COM

DICK DALE Comes out on stage to ovation  at City Winery, 1-22-15, Napa, CA

Dale catches fans up on his medical issues and 'medical industrial complex' before launching into 'Rumble,' Ghostriders' and other songs  he's become known for even if they weren't his originals.
'CALIFORNIA SUN'
'LET'S GO TRIPPIN' was one of Dales two big hits in the early 60s
Dale talks about seeing Johnny Cash in 1956 and becoming a fan, performs Cash songs
Spanish ballad Dale wrote for his wife Lana. Dale talks about 'Love' that finally came to him late in life when he met Lana, who has seen him through his medical issues.
Dale's signature song, 'Miserlou,' which took on a new life in the movie 'Pulp Fiction' a couple decades ago.
Dale closes show, telling fans 'You Are My Medicine!"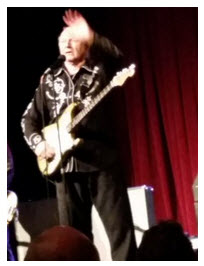 SUBSCRIBE TO MORE OLDIES and surprises for free! >>>>