Excerpted from PEOPLE…
Frankie Valli on Turning 89, Frank Sinatra and Nick Jonas Playing Him in 'Jersey Boys' Musical (Exclusive)
Encore performance from Frankie and band Sunday Nov 14, 2023 in historic San Jose Civic… Bye Bye Baby, Rag Doll, Let's Hang On

By Daniela Avila
and Liz McNeil
Published on May 3, 2023 08:10PM EDT
With a heart of gold and spirit of a 20-year-old, Frankie Valli is celebrating 89 years around the sun — and still getting the most out of life.
In light of his birthday on Wednesday, the legendary singer spoke to PEOPLE about feeling young, his friendship with Frank Sinatra and much more.
"It feels pretty good," the Four Seasons lead singer tells PEOPLE of turning 89.
"It's just another year, the way I look at it. So far, knock on wood, my health has been good enough so that I can drive — I have all my marbles and I'm always interested in learning," he continues. "I like reading scripts and I always go over new music and listen to other people's music for inspiration."
When asked what keeps him young, Valli — who says he enjoys listening to rap music these days — claims he "eats baby food."
"I am joking! Your mind is what keeps you young — you have to keep using it. I know people who couldn't wait to retire, and when they got to the moment of retirement, they started getting old real quick," he says. "It's like they had too much on their mind, and if they stayed — even in a part-time way — a little busier, they could've stretched out those extra years that we all look for."
Valli adds, "[Age is] really a frame of mind. It really is. There are wonderful things you learn at every age as you go along. You can always learn something, even from kids, if you pay attention to what's going on."
Reflecting on the thought of retiring, the "Sherry" singer says that he doesn't plan to stop anytime soon.
"I'll probably tour until I can't do it anymore, but even if it's a limited amount of touring, it's something I love and I love people. If it weren't for people, I would not have had a career in the music business," he says. "It;s those guys that really went out and bought the product as you made it, loved you and came to see you. When you go to a different city and you work in a different venue, it's like visiting friends. That's the best way that I can put it."
"It's a wonderful comfort zone. It really is, and it gives you what you need when you need, when there are things on your mind and so forth and so on," he continues. "When you go out and perform, you have this wonderful audience and you forget about all of your troubles and problems. They all go away."
Meanwhile, Nick Jonas is set to portray Valli in the upcoming Jersey Boys movie musical — and the singer shared his thoughts on the actor.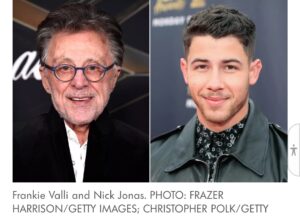 "Well, [from] what I've seen of it so far, I think he's brilliant. The Jonas Brothers are terrific to start off, and they also come from New Jersey," he says.
Valli — who had a say in choosing the star — also tells PEOPLE that he was "very happy" Jonas is filling the role.
Last week, a street in Newark, New Jersey — where Valli grew up in a housing project — was renamed after him.
"It was quite exciting. It really was," he says. "I spent all of my youth there and I became successful while I was living there. So [it's] a very special place. It was a project that was a trial thing that the government was doing — putting together government projects for people who weren't making a lot of money, and you paid rent there according to how much money you made a week."
"All my dreams originated from there. From being a kid growing up there and my mom taking me at a very young age to see my very first performance, Sinatra. I had made up my mind that that's what I wanted to do. I had no idea how I would get to that place."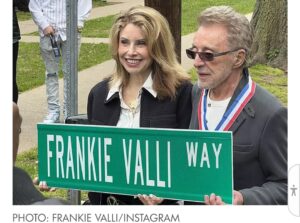 Perhaps with new wife at street dedication
The singer — who was inducted into the Rock and Roll Hall of Fame in 1990 — remains utterly grateful for his life and career, which led him to experiences like becoming friends with Sinatra: "Never thought in a million years that I would make it or become friends with Frank Sinatra, but it happened and it was incredible."
He also shared something he learned from the "Strangers in the Night" singer, who died in May 1998: "You learn how to be humble, and you learn to understand that you're only a star in any sense of that word if you have an audience, and the audience is really the most important thing. Without an audience, I don't care what your name is, it wouldn't matter."
"Living in the projects was good for me for so many reasons. It gave me the incentive to want more, and although I didn't get a full education — no one was sending me to college anyway so it wouldn't have mattered — I had to do something to make something of my life. [I had] to come above everything that I grew up with."
A piece of advice from Valli? "Everybody should live the life they want to live without hurting anybody. That's the secret."
From LA Times Oct 23
Nobody came to Frankie Valli's wedding over the summer, which was exactly how the 89-year-old singer wanted it.
"Oh, it was terrific," he recalls of the very private ceremony at Las Vegas' Westgate Hotel, where Valli and his fourth wife, Jackie Jacobs, tied the knot in June, more than half a century after he set out toward becoming one of the 1960s' most reliable pop hitmakers as the falsetto-voiced frontman of the Four Seasons. "We both have families from back east, and afterward everybody said, 'Why didn't you tell us? We wanted to come!'" He laughs.
"They probably all would have, as long as I paid for the plane trip and the rooms."
Financial considerations aside, Valli is hardly wanting for crowds these days: With a set list chock-full of AM radio classics like "Sherry," "Walk Like a Man," "Big Girls Don't Cry," "Working My Way Back to You," "Rag Doll" and "Can't Take My Eyes Off You" — each a compact marvel of lush vocal harmony and rough-and-tumble rhythm — Valli plays 75 or 80 well-attended concerts every year, including a gig in May at Inglewood's YouTube Theater in which that last tune sparked a singalong so robust that Valli told the audience, "They can hear us in Sacramento."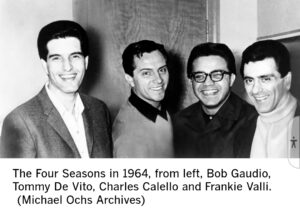 ---
On Thursday night the singer will launch a new Vegas residency at the Westgate — known as the Las Vegas Hilton when Valli worked the joint in the late '80s — and next month he'll perform at the Agua Caliente casino in Rancho Mirage. Yet it's not just nostalgic old-timers keeping him in business on the road.
work by about half in 2024; he swears he's not saying farewell, though he is calling his next run of concerts the Last Encores tour.
"I'm not sure whether I'm gonna keep going out," he says on a recent morning at the Encino home he shares with Jacobs, 60, a former CBS marketing executive whom he met at dinner one night at a Los Angeles restaurant. The house on a quiet cul-de-sac is tastefully decorated in gray and white; a book of Bob Dylan lyrics sits on an end table amid family photos and a plaque commemorating the Latin-airplay success of "Te Quiero Baby," Valli's 2020 collaboration with the Cuban American rapper Pitbull
"The thing about us is that we never stayed in one bag," he says, perched on an armchair as he talks between phone calls from a road manager and from his son Emilio, who works as a real-estate agent in Malibu. Valli has four children in all; in 1980, his stepdaughter from his first marriage died in a car accident, followed just six months later by the death of another daughter in a drug overdose. "When that happened, I lost it for a bit," he says, referring to a stretch of substance abuse that lasted until he swore off booze more than 40 years ago.
"Lots of people thought we were Black until we played the Apollo Theater with Jerry Butler and Ike and Tina Turner," adds Valli, born Francesco Castelluccio into an Italian American family. "This was a period of time when nobody white was playing many Black theaters."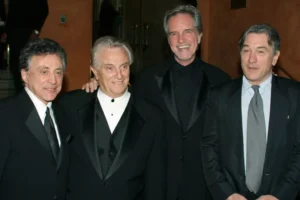 Also, though the Four Seasons were inducted into the Rock & Roll Hall of Fame in 1990 — an honor Valli attributes to the enthusiasm of the late Seymour Stein — the singer has never won a Grammy Award to go with his 19 Top 10 hits. "Again, we weren't with a big record company," he says, adding that "the Grammys go by the voting power that a record company has within" the Recording Academy.
Valli, who grew up around mobsters and went on to portray one on "The Sopranos," doesn't seem bitter about any of this; he imparts the information like a teacher eager to illuminate the dark corners of a music industry he long ago figured out. He even offers up his cellphone number in case any further explanation is required.
Does he prefer to text or call?
"Call," he says. "I"m very un-electronic. You see all these people getting into trouble? Look at Hunter Biden."
From the kitchen, Valli's wife calls out, "No political talk, please," which he ignores long enough to ask why both parties refuse term limits and to wonder "how all these guys in politics become millionaires."
Might we think of the Last Encores tour as a kind of term limit for Frankie Valli? He seems to like the idea
"I just want to go someplace when I'm done that's very quiet and doesn't have radio or TVs," he says. "Maybe paint or something, get into something else."