JERRY LEE LEWIS STILL GOT IT at 80 in New LP
ROCK & ROLL TIME
[stars]
– Lewis is the Last Man Standing from the Sun
Records 
Class of 1955 – 60 Years Later
Also new Autobiography – 
CHECK IT OUT BELOW!

While all his 'partners in crime' from the Sun Records Days are long gone, JERRY LEE LEWIS just
keeps going. Even in failing health, when Lewis gets in front of the piano it's like time stands still and it's
1955 all over again.  Who would have thunk the hardest living one of the group of Elvis, Carl Perkins, Roy
Orbison and Johnny Cash would be the one stil rockin? And the new album has received a 5 star rating from
Amazon, now available HERE on sale for only $10!
Lewis will make his 80th Anniversary tour in 2015 . Knowing him  it won't be his last
Reviews
[stars]
The man does not know he is pushing 80 (79 to be exact). Was on Letterman last night for the whole show doing songs from this album and others — wish I could see the parts during the ads. Meanwhile on this album — this is more Rock & Roll than Country (the flip of Mean Old Man) — having said that it has some of each as usual. Well produced, great sound. I wish he could go on recording forever. The piano is well mixed and audible for most of the songs although two of them he takes up the guitar (like Sunday Morning Coming Down and Mean Old Man) — which he has done in the past, they just never really advertised it. Folsum Prison Blues is very nice as is the title song. The sound has some of the old Sun echo effect, but is thoroughly modern in quality. Recorded and Memphis Blues Club. If you are a fan you have to have it, if you are not yet a fan get Last Man Standing (CD) and Last Man Standing (DVD) first — if you like those get Mean Old Man and Rock & Roll Time second. You won't regret it. This is a man who has had a gold something every decade for seven decades … must be doing something right. One thing he does that other "old" stars don't do is that he does new material a lot. Of course in concert and even albums he is forced to re-visit his hits (once on Austin City Limits he said if he did not do Whole Lotta Shakin and Great Balls of Fire he probably would not get paid) — but the vast majority is new stuff which is why he remains relevant while other "old" starts are just parodies of themselves 50 or 30 or whatever years ago. Jerry Lee Lewis is still performing differently and with new songs. One of the songs dates to 1860s — this guy is a museum of old American music.
Jerry Lee Lewis does not show his age at all on this new release! Lewis, the producer and arranger did a great job of picking songs that fit his vocal range and style. There is still the presence of his strong, rollicking piano playing on each song. There is also a nod to his Sun Studio partners Johnny Cash and Elvis Presley with "Folsom Prison Blues" and "Promise Land". I will not be surprised to see Rock & Roll Time on some best of the year list at the end of 2014.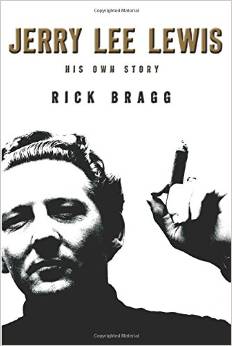 NEW BIOGRAPHY FROM JERRY LEE  LEWIS
Review
"No writer is better suited than Rick Bragg to tell Lewis's story. The result is a biography with the memorable language and narrative drive we expect only from the finest novels . . . the best book on rock and roll I have ever read." (Ron Rash, author of Serena)
"An iconic rocker receives a warm, admiring biography from a Pulitzer Prize-winning journalist and author . . . Throughout, Bragg displays his characteristic frisky prose . . . From a skilled storyteller comes this entertaining, sympathetic story of a life flaring with fire, shuddering with shakin'." (Kirkus Reviews (starred review))
"Mesmerizing . . . IRick Bragg illuminates Jerry Lee Lewis's controversial-but brilliant-life and career in this captivating biography." (Parade)