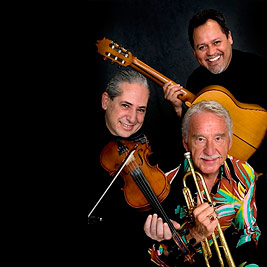 For DOC SEVERINSON, Former
Johnny Carson Band Leader
There's No Stopping at 83
Doc Severinson is going stronger than ever. Now living in Mexico, Severinson still tours heavily , has a new CD and says he 'is now working harder than ever." ,after trying to retire – which is the thing one's 'supposed to do' at age 79′ Severinson couldn't stand it. He happened upon a couple ' world class trumpeters' playing a small dive near his new Mexico home and asked them if they'd be interested in working with him. They didn't know who he was at first, but the rest is history, as they say…
'I want to be remembered as a guy who played way beyond the age when trum -Doc Severinson , Johnny Carson's longtime band leader

pet players are not supposed to be able to play anymore.'
Don't Forget DOC SEVERINSON
(Editor' s Note: Before we continue with the rest of this remarkable story of a remarkable, if overlooked man today, let me just say that this is just another excample of an older person,a Senior, or Senor , in Mexico, who has been neglected, overlooked, forgotten or however you want to say it – by the folks in the US where he was a star for so many years. Why isn't this still-talented, interesting and colorful man no longer seen on the Tonight Show, or most other media . Because the media and rest of us have neglected our heros of yesterday. If it weren't for NPR and the interview you can listen to here, we wouldn't have known about Severinson's new projects.

It's funny that , as much as a recluse Johnny Carson became after retiring, the opposite can be said of Severinson. Ed McMahon, who was the other third of the Tonight Show Gang Leaders also worked until his recent passing at 86.)
Ask Doc about retirement and the answer you will get leaves you with a very clear impression: he is not ready to hang up his horn or his traveling shoes.
Since moving to Mexico at the end of 2006, Doc has kept a busy performance schedule and made new discoveries in two very talented musicians from Mexico. Together with these gentlemen, Doc has crafted an innovative and exciting program.
El Ritmo de la Vida" is, of course, "the rhythm of life," a very apt description of Gil Gutierrez and Pedro Cartas and their music. It is classical Spanish with a jazz flair, gorgeous ballads, both Latino and American, plus some great movie music,and among their best received — gypsy jazz, a la Django Reinhardt. Each are virtuosos and combined are electric. Add to this the soaring trumpet of Doc (not to mention his wardrobe!) and the experience is indescribably brilliant.
Trumpet Spectacular
'Doc' is now a resident of San Miguel de Allende, Mexico, and first heard Gil and Pedro playing at an Italian bistro to throngs of admirers, both American and Latino. He later recorded a few tunes with them and then immediately asked to join them.
According to 'Doc': "I came to Mexico with retirement on my mind, but when I heard them play I knew that I would be playing with them for some time to come. Latino music, along with the blues, has always been among my favorites, and Gil and Pedro do it along with a European style that I love and so do our audiences.
They are mature, gifted young men who play great, look great, and PLUS, we share a great lifestyle together. Our music is totally organic to us."
Recordings from Doc
A Grammy award winner, Doc has made more than 30 albums–from big band to jazz-fusion to classical. Two critically acclaimed Telarc CDs with the Cincinnati Pops Orchestra showcase his multifaceted talents from Bach to ballads. The Very Best of Doc Severinsen reprises fifteen of Doc's signature pieces. His other recordings include Unforgettably Doc with the Cincinnati Pops on Telarc, and the Grammy nominated Once More With Feeling on Amherst. He received a Grammy Award for "Best Jazz instrumental Performance – Big Band" for his recording of Doc Severinsen and The Tonight Show Band-Volume I. Doc Severinsen and His Big Band/Swingin' the Blues is his latest release with Ed Shaughnessy and Ernie Watts.
Background
Severinsen's accomplishments began in his hometown of Arlington, Oregon, population: 600. Carl H Severinsen was born on July 7th, 1927, and was nicknamed "Little Doc" after his father, Dr. Carl Severinsen a dentist. Little Doc had originally wanted to play the trombone. But the senior Severinsen, a gifted amateur violinist, urged him to study the violin. The younger Severinsen insisted on the trombone, but had to settle for the only horn available in Arlington's small music store — a trumpet. A week later, with the help of his father and a manual of instructions, the seven-year-old was so good that he was invited to join the high school band. At the age of twelve, Little Doc won the Music Educator's National Contest and, while still in high school, was hired to go on the road with the famous Ted Fio Rito Orchestra.
However, his stay with the group was cut short by the draft. He served in the Army during World War II and following his discharge, landed a spot with the Charlie Barnett Band. When this band broke up, Severinsen toured with the Tommy Dorsey, then, the Benny Goodman bands in the late 40's.
After his days with Barnett and Dorsey, Doc arrived in New York City in 1949 to become a staff musician for NBC. After years of playing with the peacock network's studio bands, Severinsen was invited to do a gig with the highly respected Tonight Show Band. An impressed conductor, Skitch Henderson, asked him to join that band in 1962 as first trumpet. Five years later, Doc took over as Music Director for The Tonight Show and stayed with the show until Johnny Carson retired from late night television in 1992. DOC SEVERINSON
Today, Doc has not lost his flair for outrageous fashions and witty banter. Yet, he is highly regarded as one of the most technically proficient trumpeters. Doc has the best stage presence of anyone out there. He can blow a horn like few others…he is a high note virtuoso, a genuinely funny man, and always a fashion fiend.
Somewhere along Doc's journey from Oregon, to New York, to this evening's concert, the "Little" was lost, but he remains ageless. Doc Severinsen continues to be a favorite of audiences across America.
Press Contact: Bernadette Hilario – [email protected]
More Doc Severinson  and other oldies but goodies
DOC SEVERINSON